Creating opportunities for business creation and employment for young people in the Department of Sucre as alternatives for overcoming poverty.
Considering the slow business creation and high unemployment rates among the youth, Governor Hector Olimpo Espinosa, developed "Sucre Escucha" Implementing programs that aim to change young lives.
The department aims to increase entrepreneurship and employability among young people to overcome poverty through the project "Implementation of "Entrepreneurship and Employability routes" within the Framework of the Sucre Escucha Strategy.
We have impacted 2,600 men and women between the ages of 18 and 28 living in both, rural and urban areas in Sucre.

What are we doing?
Transferring knowledge and strengthening technical and life skills.

How?
Through the development of 6 training modules, over a three-month period.

Why?
To strengthen and develop business ideas and skills among young people in the department of sucre.

What are we doing?
Strengthening and guiding the beneficiaries to identify occupational skills and interests toward employability.

How?
Through the development of training workshops, over a one-month period.

Why?
To strengthen and develop skills that will allow the beneficiaries to perform highly in the selection processes and the job market.
MUNICIPALITIES WHERE
THIS STRATEGY IS IMPLEMENTED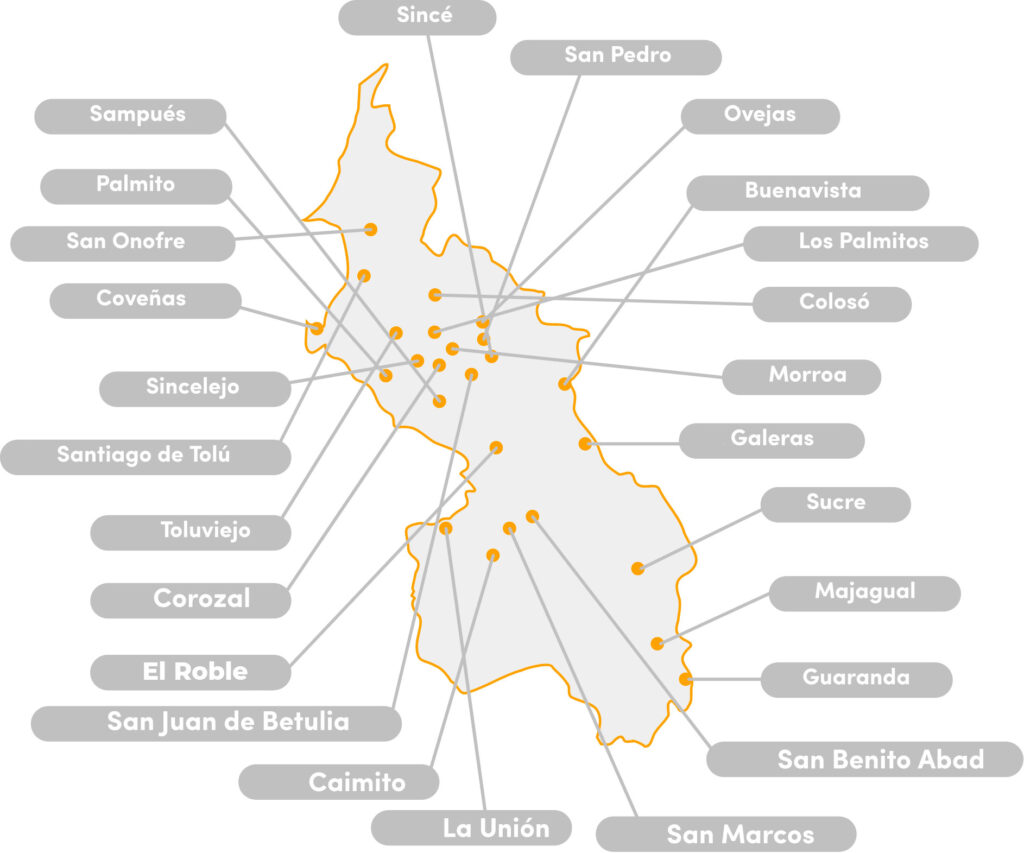 | | | | | |
| --- | --- | --- | --- | --- |
| Initial Month | Final Month | Activity codes | Activity | Activity Description |
Call for applications and Launching
March
April
1.1.
Prepare and organize the launching event for the application of the youth.

Registration of young people from Sucre who wanted to be part of the Sucre Escucha project.

 

Launch of the Sucre Escucha project.
May
May
1.2
Conduct vocational aptitude workshops.
Perform a diagnosis of the young people from Sucre to determine the ideal route (entrepreneurship and employability).
Information Analysis
June
June
1.3
Systematize the results in the database of eligible candidates for entrepreneurship and employability routes.
 
Training
July
September
2.1
Conduct workshops by functional area to build the business plan.
Develop training workshops for entrepreneurship to Enhance knowledge in the six training areas.
July
July
3.1
Conduct employability workshops.
Conduct training workshops for the employability route to strengthen and guide interests and occupational skills for the job market.
July
December
3.3
To establish comprehensive coordination with SENA (National Learning Service) and COMFASUCRE for job placement.
 
Productive Assets
September
October
2.2
Give out productive assets
Delivery of supplies for young people from Sucre who belong to the employability route
Fairs
September
September
3.2
Conduct the job fair
Invite companies to showcase the job vacancies they have available.
October
December
2.3
Provide advisory and support for the implementation of business plans.
 
Fairs
November
November
2.4
Organize a business fair
Exhibition of 5 entrepreneurship ventures from different sectors in the city of Sincelejo